Real Money to Spend at Dublin Businesses
Dublin Dollars are MONEY. Really!
At any given time, there are likely to be several hundred Dublin Dollars in circulation. What does that mean to you, as a business owner?
It means that if you are a member of the Dublin Chamber of Commerce and if you choose to participate, you may receive these Dublin Dollars in payment for services or products, just like you accept real money.
Dublin Dollars are put into circulation by individuals who purchase them from the chamber to use like gift cards or by organizations such as the Dublin schools which use them as end-of-year incentives or rewards. Sometimes they are awarded by the chamber to the winners of contests or door prizes or in "welcome packets."  
Dozens of local merchants accept Dublin Dollars. Then they exchange them for cash at the chamber office.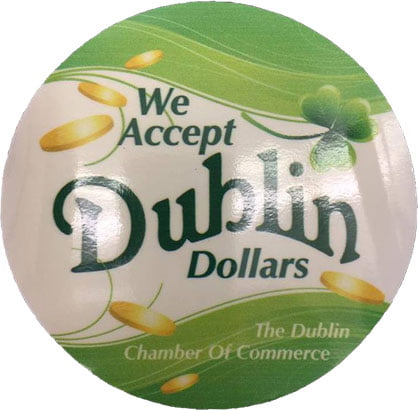 Look for this decal at businesses accepting Dublin Dollars
What are Dublin Dollars designed to do? They are intended to encourage shopping at home. Sales tax is vital to every community, especially small towns, and it is unfortunate to lose money to a neighboring community when the same product is available in a Dublin store. 
Each month, hundreds of dollars in Dublin Dollars are redeemed at the chamber office by grocery and convenience stores, hair salons, hardware stores, gift shops, restaurants, etc. Even non-profit organizations can accept them as donations, if they are chamber members. 
For more information about Dublin Dollars or to be included in the program, please call the chamber office at 254-445-3422.
Thanks for helping the Dublin economy by shopping at home!
Dublin Dollars Participating Businesses
B & H Custom Crafts
590 W Sheridan St
Dublin, TX 76446
254-445-3678
Dublin Floral Co.
126 N Patrick St
Dublin, TX 76446
254-445-2355
Brookshire Brothers
208 N Patrick St
Dublin, TX 76446
254-445-3229
Dublin Veterinary Clinic
1440 E State Highway 6
Dublin, TX 76446
254-445-3325
Bradberry's Best
621 S Patrick St
Dublin, TX 76446
254-445-2388
Chigger Ranch
801 E Blackjack St
Dublin, TX 76446
254-445-4055
Central Inn
312 N Patrick St
Dublin, TX 76446
254-445-2138
Dublin Insurance Agency
119 S Patrick St
Dublin, TX 76446
254-445-3277
Titan Fitness
125 S Patrick St
Dublin, TX 76446
254-445-3001
Relax Inn
312 N Patrick St
Dublin, TX 76446
254-445-0499
Best Value Pharmacy
604 N Patrick St
Dublin, TX 76446
254-445-3679
Things Celctic
115 E Blackjack St
Dublin, TX 76446
254-445-0103
Red Barn Armory
876 Private Road 1624
Dublin, TX 76446
254-445-4867
Lions Den Athletics
113 E Blackjack St
Dublin, TX 76446
254-445-0254
Stone's Auto
303 E Blackjack St
Dublin, TX 76446
254-445-3888
Dublin Public Library
206 W Blackjack St
Dublin, TX 76446
254-445-4141
Old Doc's Soda Shop
128 S Patrick St
Dublin, TX 76446
254-445-3939
Higginbotham Bros
624 S Patrick St
Dublin, TX 76446
254-445-3113
Buckhorn Boutique
119 E Blackjack St
Dublin, TX 76446
254-459-8584
Clay's Processing
111 W Elm St
Dublin, TX 76446
254-445-4180
The Dublin Citizen
938 N Patrick St
Dublin, TX 76446
254-445-2515
Sonic Drive-In
941 N Patrick St
Dublin, TX 76446
254-445-4447
Timmon's Exterminating
2 Woodland Trail
Dublin, TX 76446
254-445-3704
Transformation Pathways
106 N Patrick St
Dublin, TX 76446
254-445-2228
Garcia Bros
1149 Private Road 1317
Dublin, TX 76446
254-445-1985
Golden Butterfly Jewelers
118 N Patrick St
Dublin, TX 76446
254-445-3731
Dairy Queen
830 N Patrick St
Dublin, TX 76446
254-445-3610
Back Road's Grill
231 S Patrick St
Dublin, TX 76446
254-445-4452
Texas Car Detail
216 N Patrick St
Dublin, TX 76446
254-445-1985
Golden Chick
1036 N Patrick St
Dublin, TX 76446
254-445-1922
Woody's Restaurant
17157 S US Highway 377
Dublin, TX 76446
254-445-3737
Dublin Dog Den
111 E Blackjack St
Dublin, TX 76446
254-445-4445
Meals on Wheels (Donations)
310 W Lingleville Highway
Stephenville, TX 76401
254-965-3510
Bradberry Builders Supply
804 E Blackjack St
Dublin, TX 76446
254-445-4030
Southern Sass
929 N Patrick St
Dublin, TX 76446
254-445-4074
Dublin Housing Authority
201 E May St
Dublin, TX 76446
254-445-2165
Walker Insurance Agency
102 N Patrick St
Dublin, TX 76446
254-445-3372
Orkin Pest Control
609 S Graham St
Stephenville, TX 76401
254-965-0775
Dublin Historical Museum
116 W Blackjack St
Dublin, TX 76446
254-445-4550
Rodeo Heritage Museum
118 W Blackjack St
Dublin, TX 76446
254-445-0200
W.P. Kloster Museum Annex
Across Dublin Bottling Works
105 E Elm St
Dublin, TX 76446
Ben Hogan Museum
121 E Blackjack St
Dublin, TX 76446
254-445-4466